Sligo PEACEPLUS Programme
PEACEPLUS in Sligo 2023-2027
PEACEPLUS is a new funding programme from the Special EU Programmes Body (SEUPB) designed to support peace and prosperity across Northern Ireland and the border counties.
Sligo County Council has been awarded indicative funding of €3.604 million to develop and implement a Co-designed Local Community Peace Action Plan. The plan will be built on three core themes:
Local community regeneration and transformation: transformation and re-imaging of individual or collective areas within a community in a manner which challenges initial perceptions and increases levels of shared pride.
Thriving and peaceful communities: to build the capacity of local organisations through cross community collaboration.
Celebrating culture and diversity: to build, improve and sustain relationships between and within communities by addressing issues of trust, prejudice and intolerance.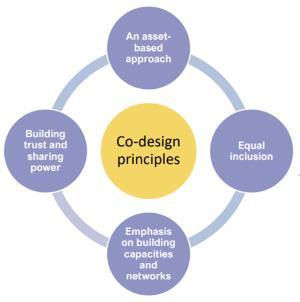 The co-design model is an approach based on participation where the people taking part in and benefiting from a planned action are equal partners in the planning and design process of these actions.
Co-design is more than local consultation.
This process relies on you, as community representatives and individuals, to be involved.
The co-design approach enables diverse partnerships to establish priority actions for their local areas and collectively address these in a manner which will make a significant and lasting contribution to peace and reconciliation. Events and meetings to hear your ideas for the Local Community Peace Action Plan will scheduled from mid-April 2023. Dates and venues announced soon. This will be supported by an online survey and targeted group conversations where required.
How can I help shape Sligo PEACEPLUS?
The public consultation phase is now underway for the development of the Sligo PEACEPLUS Co-designed Local Community Peace Action Plan. This plan forms the basis of application to the Special EU Programmes Body for projects to be delivered throughout County Sligo through to 2027.
Public consultation sessions:
These took place between 2nd-4th May in Cliffoney, Tubbercurry, and three locations in Sligo at times during the day and evenings.
You can still have your say. Complete the survey or make a written submission by close of business on Friday 26th May 2023. We want to hear from you.
Online Survey:
By completing the online survey on or before Friday 26th May 2023.
Written submissions
By email – sending submissions to PEACEPLUS, Sligo County Council at peaceactionplan@sligococo.ie
By post – addressing submissions to Tracy Ferguson, PEACEPLUS, Sligo County Council, City Hall, Quay Street, Sligo, F91 PP44.
All submissions by email or post shall be clearly marked 'Sligo PEACEPLUS'.
For all further details or clarification about participating in the consultations email peaceactionplan@sligococo.ie or phone Tracy at 071 911 4422.
Your input is welcome through the survey and/or at any of the public co-design consultations. We look forward to hearing from you.
If you would like:
more information,
to be added to updates list,
or to arrange a meeting with your group,
contact Tracy Ferguson, Senior Staff Officer with responsibility for managing Sligo PEACEPLUS Programme at tferguson@sligococo.ie, phone: 071 911 4422, mobile: 087 756 0274.
For an overview of the entire programme see PEACEPLUS Programme Overview.
Small Grants
PEACEPLUS will have a direct application small grants programme. Details have not been finalised but it is expected that grants may be available up to €100k within defined amounts for each county. The administration of these grants will be managed by Pobal and the call for applications is likely to open later in 2023.