Healthy Ireland
About Healthy Ireland
Healthy Ireland, A Framework for improved Health & Wellbeing 2013-2025' is the national framework for action to improve the health and wellbeing of Ireland over the coming generation. The Government has approved the creation of a Healthy Ireland Fund to support the implementation of its objectives in a practical way such as through alignment with specific objectives contained in Local Economic & Community Plans LECP's.
The Healthy Ireland initiative aims to create an Irish society where everyone can enjoy positive physical and mental health.
This is to be achieved through supporting innovative, cross-sectoral, evidence based projects and programmes that implement key national policies in areas such as obesity, smoking, alcohol, physical activity and mental health. In particular, an emphasis is on the Health & Wellbeing of the most disadvantaged groups and areas and those experiencing significant health inequalities.
Healthy Ireland in Sligo
At a local level, The Healthy Ireland Fund is administered by the Sligo LCDC, who through objectives in the County Sligo Local Economic & Community Plan 2016 – 2022, has identified and set out actions and targets that align to these national health policies. The Sligo LCDC has recently secured funding in this, Round 3 (2019 – 2021) of the Healthy Ireland Fund. In collaboration with partner agencies in the LCDC, a number of initiatives are being funded in this round such as:
Supports for 'Remote' & 'Lone' Workers, by facilitating social interaction and roll out of Mental Health & Wellness Programmes to ensure this cohort of workers are mindful of their Health & Wellbeing.
Promoting awareness, encouraging healthy living choices and supporting engagement with the most hard to reach target groups, such as Older Persons, New Communities, Unemployed Persons
Promote and normalise Breastfeeding.
Promote and facilitate increased levels of physical activity among adults aged 50+ who are not meeting the national guidelines of 150 minutes of physical activity per week
Development an intergenerational choir to develop a stronger sense of personal and community identity and provide opportunities for social engagement.
"This funding from Pobal and the Department of Health to the local LCDC to promote innovative projects under the Healthy Ireland Programme is very welcome. As the local promoters of the Programme, the LCDC is working towards a shared vision amongst public sector bodies, employers, sports and voluntary groups along with communities, families and individuals where everyone can enjoy physical and mental health and wellbeing to their full potential. These inventive projects that we will be funding such as raising awareness within local organisations how best to support breastfeeding mothers and their families or the development of an intergenerational choir linking with local schools and active age and older peoples groups are designed to promote physical and mental health and wellbeing at a community level"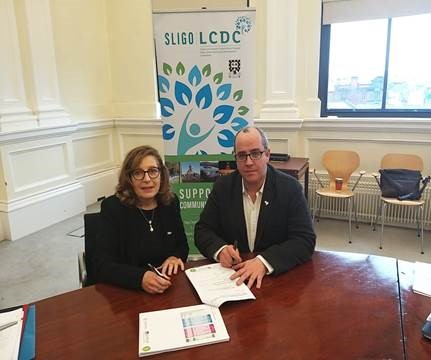 Ms. Dorothy Clarke, Chief Officer Sligo LCDC & Cllr Chris Mac Manus, Chairperson of Sligo at the recent contract signing of the Healthy Ireland Fund grant agreement
Contact Us
For further info please contact the Community Department on lcdc@sligococo.ie