Sligo Champion covers roll out of climate change plan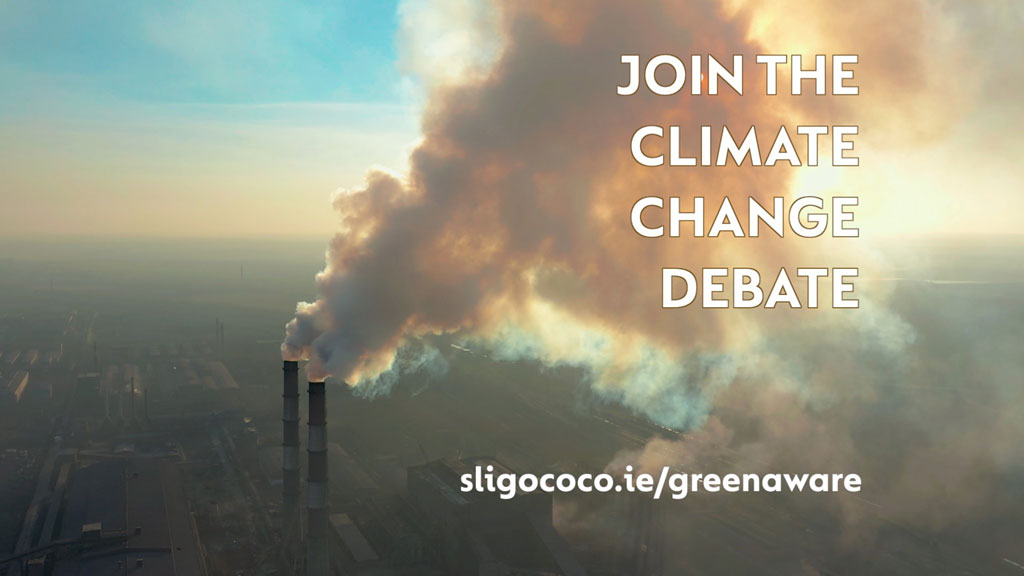 Green Aware Sligo, an environmental campaign promoted by Sligo County Council will, in the next number of weeks, raise awareness about climate change.
"Climate change has become the most important issue of our time," says Ciarán Hayes, Chief Executive of Sligo Council, in the campaign's launch video. Along with the staff at Sligo County Council, he wants to challenge the community to become more aware of the significance of the challenges that climate change will continue to bring about, and what we, as individuals and collectively, can do to change this.
"It's about encouraging people in the community to become more energy & resource aware," says Siobhán Gillen of Sligo County Council's environment section, who is co-ordinator of the project. "In the next 6 weeks, we will cover a range of topics, and give guidance and advice to people about practical things like how to apply for grants to improve the energy ratings of their home, or more environmentally friendly ways to go about our daily lives."
Throughout September and into October, this awareness campaign will enable us to see how even small changes we make as individuals can have a much more significant impact when looked at collectively. Each week a new topic will be promoted, for example in areas such as how making your home more energy efficient can lead to significant savings, or how businesses can deal with issues such as plastics and packaging.
"Up until recently, many cafe and restaurant owners would have struggled to source compostable packaging, and there were also additional cost implications," says Aidan Doyle of Sligo Chamber. " But now we see a complete change in that mind set. It goes to show, if campaigns like last year's Green Aware Sligo campaign are to be successful again, it will be as a result of co-operation. This awareness programme will be a great way for businesses and individuals to find out more about the personal choices we make and how to respect the environment we all share."
It has been much publicised that Ireland has fallen well behind internationally in relation to our commitments to cut down on carbon emissions, and we are now playing catch up in this regard. As part of this move towards a lowering of emissions, the National Adaptation Framework was launched in Sligo in January 2018. More recently, in June of this year, the government announced its new Climate Action Plan, which sets out a number of challenging and ambitious actions which are designed to chart a course towards decarbonisation targets.
While the Climate Action Plan contains objectives that we aim to achieve as a country, it also sets out targets for each County Council, and this includes the adoption of the Climate Adaptation Strategy, something which is expected to be ratified here in Sligo by Councillors at the start of September.
The Cathaoirleach of Sligo County Council, Tom McSharry said "We can no longer ignore the fact that we have a responsibility not only to try to reduce and mitigate our impacts on a changing climate, but we must also prepare for a future where these events and pressures are predicted to increase in frequency and in strength".

The Draft Adaptation Strategy sets out how Sligo County Council intend to engage, plan & adapt with regard to the challenges posed by Climate Change, and it is the start of a more formalised approach to the most significant issue of our generation. A public consultation was held in relation to the strategy, and the Council received several lengthy submissions, as well as holding public meetings where members of the public were invited to discuss what they considered the most important topics to be addressed.
The finalised document, when adopted by the Council, will contain over 40 individual actions which are designed to assist the Local Authority in adapting to our changing climate, as well as containing information on the major issues of flooding & storm damage. It will also address issues that were raised by members of the public. These include biodiversity, land use planning, community engagement and information sharing.

It is also important to note that the approach that Ireland has chosen to take with regard to Climate Change has two main elements: Adaptation, which is about adapting to a changing climate; and Mitigation, which means trying to limit our impact on the Climate by reducing our emissions. The National Mitigation Plan was launched in July 2017, and the actions outlined in this Plan are already ongoing, and can be seen in the energy schemes being run by the SEAI, as well as the energy efficiency works being carried out by other state bodies throughout the Country. One good example of this and one which people may have already observed here in County Sligo is the ongoing upgrading of our public lighting system. The old orange sodium lamps being replaced with high efficiency LED lights.
Pete Murtagh, Environmental Awareness Officer with the Sligo County Council said "Every day we see another news story relating to Climate Change, and every day people's awareness is increasing about the impact of green house gas emissions and the importance of protecting against excessive resource use and pollution. We must change. We must adapt. And to so this we need to plan for a future without fossil fuels and ensure that everyone knows what part they must play in order to protect our home".
This awareness campaign will run for six weeks and will cover issues such as Energy, Travel & Business, while we will also speak to younger people & community groups about how they are being impacted and what they are doing about dealing with this profound issue