Wheelchair Availability at Sligo Beaches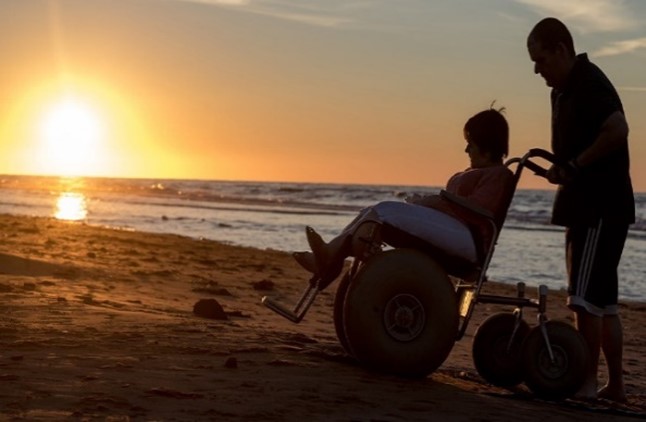 Sligo County Council is pleased to provide a beach wheelchair service for the summer.
Users can avail of two types of beach wheelchairs for use at Enniscrone, Rosses Point and Mullaghmore Beaches. To avoid disappointment, we recommend that you book in advance.
The use of the wheelchairs is FREE, but they must be booked in advance. They are available at the following locations and can be booked in slots of up to 3 hours. (Depending on demand).
Terms and Conditions for use
All chair users must have a carer/assistant with them to aid them in transfer to the chair and to push the chair, as the wheelchairs are not self-propelling. The people managing the bookings will not be in a position to assist transfer to and from the chair or push users on to the beach.
Lifeguards will not be in a position to assist with wheelchair use.
All users must present a current photo ID when collecting the chair.
Please read our Terms & Conditions for the use of the wheel chairs in order to ensure an enjoyable and safe experience. All users will be required to sign a copy of this when collecting the wheelchair.
Enniscrone Beach:
To book the Debug Beach Wheelchair please contact:
Suzanne at 087 9716389 or email info@surfsligo.com
Rosses Point Beach:
To book the Hippocampe Beach Wheelchair please contact:
Sligo County Council Tel: 071 9111111 or email: enviro@sligococo.ie
Mullaghmore Beach:
Terrabeach Wheelchair and Hippocampe Beach Wheelchair available for use: please contact Sligo County Council:
Tel: 071 9111111 or email: enviro@sligococo.ie
For further information please contact the Environment Department of Sligo County Council on 071 9111 111 (Office hours Monday to Friday 9am to 5pm) or email enviro@sligococo.ie
Beach Wheelchair Use on Request – Off Season

We often get requests for the use of our beach wheelchairs at different locations and at various times during the year, outside of our busy summer season.
We will do our best to accommodate requests of this nature, once the wheelchair is available and we have staff available to transport the wheelchair to the requested location.
If you wish to make a request to use our beach wheelchairs, off season, please contact us at 071 9111 111 (Office hours Monday to Friday 9am to 5pm) or email enviro@sligococo.ie