Protect Our Dunes Campaign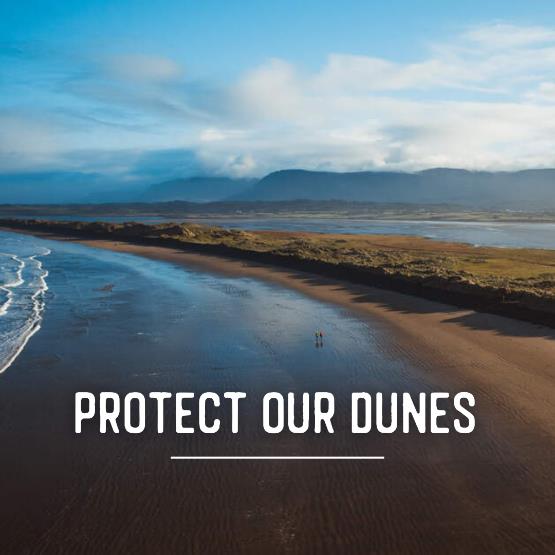 Campaign to include community-based events in Northwest Coastal Counties.
THE CLIMATE ACTION REGIONAL OFFICES TO LEAD A CAMPAIGN TO RAISE AWARENESS OF THE VALUE OF SAND DUNE SYSTEMS AND DAMAGE TO THEM FROM RECREATIONAL ACTIVITIES
The Climate Action Regional Offices in collaboration with partners are leading the coordination of a public awareness campaign to highlight the importance and fragility of sand dune systems as natural coastal protection and important habitats.
Five roadshow events will be delivered at:
Mayo – Bertra Beach
Mayo - Keel Beach
Sligo – Enniscrone Beach
Donegal – Falcarragh
Galway – Grattan Beach
The campaign is bringing together communities to celebrate their coastal heritage and to empower them with the knowledge and tools to help protect and care for their local sand dunes systems for generations to come.
Tom McDonnell of the Climate Action Regional Office Atlantic Seaboard North said they are delighted to co-ordinate the campaign on behalf of a range of partners and stakeholders, and which builds on the work of previous years under the #ProtectOurDunes initiative to raise awareness and understanding of the importance of our sand dune ecosystem.
"Sand dune systems provide natural coastal protection against storms, flooding and erosion as well as being important habitats for unique plants and animals. Despite dunes being tough and protecting us from coastal storm events, the dune grasses and plants are very fragile and the public need to be advised of activities that can damage our sand dunes, including trampling on the dunes, sliding down the dune face, wild camping and campfires, sports training, and roaming dogs. We can protect them by staying off the dunes, keeping to designated pathways and camping areas, following the direction of local signage, and watching wildlife from a distance."
He continued:
"The increased tourism and recreational use of our beaches while welcome needs to be managed in a way that respects and protects these natural assets. Our co-ordinated campaign will be asking the public to help protect the dunes by enjoying the beach responsibly."

"It will include awareness raising measures in community events and on social media to convey the importance of our sand dunes to coastal resilience and biodiversity, how they can be easily damaged from recreational activities, along with simple measures to preserve them."
To safeguard our coastal ecosystems and foster sustainable practices The Climate Action Regional Office (CARO) Atlantic Seaboard North is coordinating the campaign with
Leave No Trace Ireland
University of Galway
Clean Coasts
An Taisce
An Taisce Green Schools
Dublin Bay Biosphere
Local Authorities Ireland - LGMA
Maharees Conservation Association
The five coastal locations for this year's roadshow events also connect to the work being undertaken as part of the LIFE on Machair project and the Community Training Programme for Beaches and Dunes under the Community Climate Action Fund.