Housing development for Bunninadden
New sustainable housing development for Bunninadden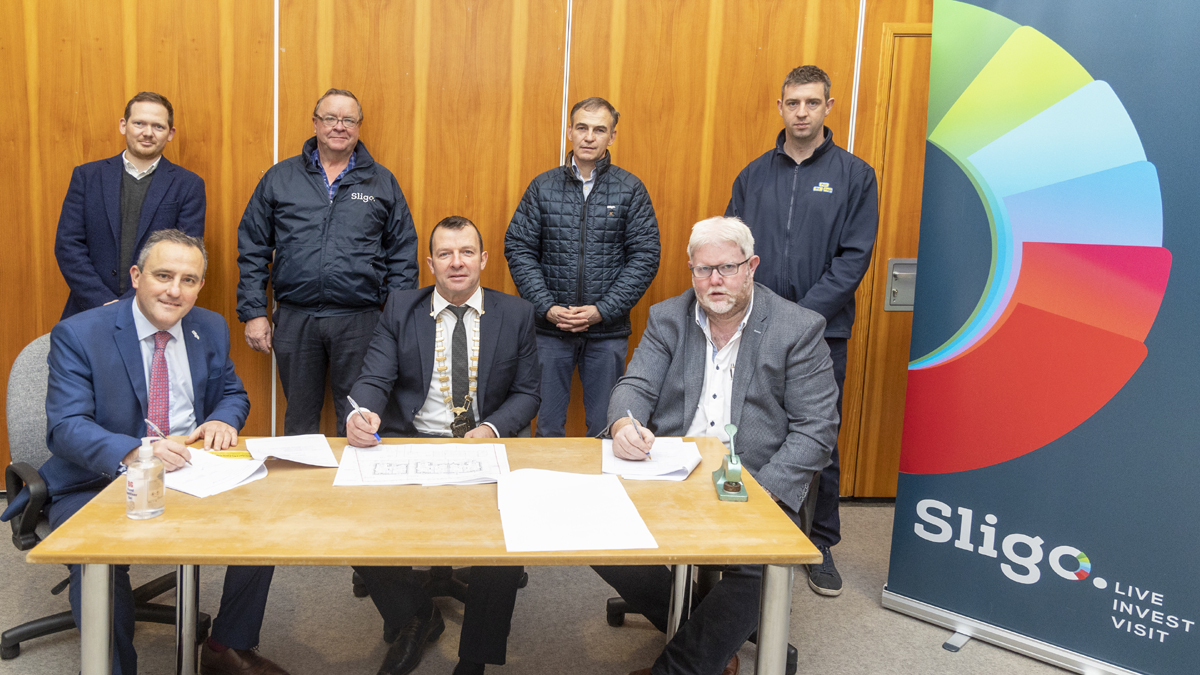 Back Row: Left to Right: Fergus Naughton, Executive Architect SCC; Cllr. Martin Connolly; Cllr. Dara Mulvey; Andrew McMunn, Site Manager, P McHugh & Sons Ltd., Building Contractor
Front Row: Left to Right: Martin Lydon Chief Executive, SCC; Cllr. Paul Taylor Cathaoirleach SCC; Darren McHugh, Director, P McHugh & Sons Ltd. Building Contractor
Work on a new social housing development in Bunninadden has taken a step forward
Work on a new social housing development in Bunninadden has taken a step forward, with Sligo County Council appointing P. McHugh & Sons Ltd for the construction of a six unit social housing project in Willie Gormley Villas, in the village of Bunninadden. The contract signing at Teach Laighne Tubbercurry was attended by the Cathaoirleach Councillor Paul Taylor, Chief Executive Matin Lydon, and the Chair of Ballymote-Tubbercurry Municipal District Martin Connolly.
Welcoming the development, the Cathaoirleach said 'County Sligo is growing. As a designated growth centre under the Government's national planning framework, Sligo County Council wants this growth to be sustainable and is delighted to announce a new energy efficient housing development.'
The houses are a mix of one-bedroom and two-bedroom semi-detached and detached single storey units. They are designed to the current nZEB (near- zero) building standard and include high levels of insulation, triple glazed windows, high level of airtightness combined with a demand control ventilation system and air-to-water heat pumps to provide all heating and hot water requirements.
The design team is being led by Sligo County Council Architects Department with CHH Civil & Structural Engineers, MWP Mechanical & Electrical Engineers & Leonard Gildea Chartered Quantity Surveyors.
The contract value is approximately €1.1million and is expected to take 9 months to complete which means the new tenants should be moving in during September 2022.
Site Plan Housing Development for Bunninadden (PDF)
- 2,039 kbs