Zebra Mussels
Zebra mussels are freshwater bivalve molluscs that are native to the lakes, slow-moving rivers and low salinity areas of the Caspian and Black Sea region. The zebra mussel is a prolific exotic species that poses a significant threat to the lakes and rivers of the western river basin district.
It is aggressively invasive and can alter and damage the ecology of receiving freshwaters bodies. The mussel was introduced to Ireland approximately 10 years ago and spread by boat traffic.
Research has shown that when zebra mussels become established in a water body there is little that can be done to control or eradicate the problem while preserving the ecosystem.
Many Sligo lakes are already infested including Lough Gill, Lough Arrow, Lough Gara and Lough Bo. Unfortunately the Shannon is likewise contaminated.
Vigilance
Much awareness and effort is required by anglers, boaters, water users and all concerned to ensure that this problem of zebra mussels is contained. Should this species be introduced into any one of the following lakes (Loughs Conn, Corrib, Mask, or Carra) the entire western river basin network is at risk, as these vulnerable water bodies are interconnected.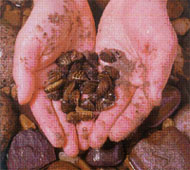 - The zebra mussel shell usually has a striped dark and pale colouration and at the adult stage they are only thumbnail size.
Once introduced, the species forms dense clusters on hard surfaces, which lie beneath the water. This aggressive growth can cause major complications and severe damage to under water equipment including boat propellers, cooling systems, drinking water intake systems and at the same time pose the risk of contamination by adhering to boat-hulls, nets and angling equipment. In fact research shows that zebra mussels are primarily introduced by the movement of contaminated boats onto water bodies.
To this end The Western Region Zebra Mussel Control Initiative was launched in April 2004 with the aim of preventing the spread of the species within the Western Lakes.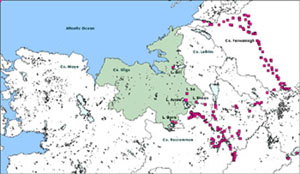 - The map indicates the contaminated waters (indicated by red squares) within Sligo
The following advice outlines how boaters and anglers can prevent the spread of zebra mussels. Your co-operation, by following the guidelines below, will limit the spread of the zebra mussel.
Here's how you must help the initiative:
Boat Cleaning
Scrape down and steam clean your boat following removal from water. High pressure steam cleaning will remove the majority of the mussels and kill the remainder. The temperature needs to exceed 40˚C. Steam cleaning facilities are available at most filling stations for a small fee, however it should be ensured that the wastewater from the steam cleaning facility does not drain back into an uninfected waterway (approved cleaning stations).

Prior to launching at waters free from zebra mussels inspect all equipment to ensure effective cleansing.

Display a valid cleaning receipt from an approved cleaning station on your vehicle windscreen.

Clean outboard motors. Flushing removes cooling water that may contain larvae. Attached individuals can be removed manually. Storing outboard engines will drain much of the water, then leave to dry for at least 3 weeks. Heavily fouled motors should be serviced.

Alternatively dry out boats for 3–4 weeks. Zebra mussels (adults and larvae) will eventually die once removed from water. Ideally, store boats in dry conditions where mussels can dry out.

If you buy a second hand boat have it cleaned.
As the prime route of infestation is via the movement of boats from contaminated waters, the best advice is to rent a boat locally.
Equipment
Dry out all angling equipment.

Alternatively immerse in hot water (40˚C) before use in a different water body.

Ensure keep-nets or landing-nets do not have zebra mussels attached.
Bait
Do not dump live bait from infested areas into zebra mussel free areas.
Do not re-use bait if it has been exposed to infested waters.
Do not use zebra mussels as bait in uninfected waters.
Waters
Do not transfer water from an infected lake to a zebra mussel free lake.
Anglers/ boaters who fail to follow this protocol must be reported to the Western Regional Fisheries Board (091) 563110 or the Northwestern Regional Fisheries Board (096) 22788.
Bio-fouling costs money
Zebra mussels can have a serious economic effect at facilities that depend on water intake by blocking pipes. They will attach to any hard surface in the waters in which they occur, quickly spreading and covering the surface. Preferred surfaces include stone, wood, concrete, iron/steel, aluminium, plastics and fibreglass. As a result, boats and water treatment plants can be damaged.
Irreversible changes to ecology
Zebra mussels can filter as much as 1 litre of water per day through their gills. They remove phytoplankton, small zooplankton and bacteria amongst other things. As a result of this activity, the food web of their new habitat is changed. Studies have shown that this leads to reductions in different populations of fish and other aquatic organisms, i.e. zebra mussels attach onto the shells of swan mussels (Anodonta sp.), preventing them from feeding, this results in death of the swan mussels. If fact zebra mussels can cause changes to whole food web, spawning grounds may be blocked, water clarity increases due to their the species filtering ability. This in turn causing weeds to grow, again spawning grounds become blocked.

THE CAMPAIGN TO STOP THE SPREAD OF THE ZEBRA MUSSEL
An active campaign to keep Lough Corrib and other western lakes free from zebra mussels is being implemented. Now in its second year, The Western Region Zebra Mussel Control Initiative has members from angling and boating organisations, Local Authorities, state bodies and interested persons.
Funding
The campaign is being funded by The Heritage Council, with contributions from the North Western Regional Fisheries Board, the Western Regional Fisheries Board, National Parks and Wildlife Service of the Department of the Environment, Heritage and Local Government, and Local Authorities including Galway City Council, Mayo, Roscommon, Sligo, Leitrim and Galway County Councils.
Media & Advertising
An initial education campaign took place in 2004. Posters and brochures were produced and distributed to relevant groups. These brochures and posters will be circulated to B&Bs, hotels, and other related businesses to increase awareness amongst boat-owners and anglers in particular. A media campaign was also undertaken which included television interviews, newspaper articles and newspaper notices. Presentations were given at several meetings and conferences. The Zebra Mussel Education Officer will be travelling to angling and boating events to provide information on the zebra mussel. The media campaign will focus on local media in both infected and uninfected areas of the western and Shannon regions.
Warning Signs
Warning signs have been erected at launching sites around many lakes, including Lough Corrib, Lough Mask, Lough Carra and Lough Conn.
Education and Children
Schools have been visited to spread awareness amongst school children. Under the Fionn Science project, with funding from The Heritage Council, a DVD on water pollution and zebra mussels has been produced by Scoil an Clochar, Oughterard, Co. Galway. The DVDs are currently being copied so they can be distributed to other primary schools and interested people.
Education Officer
As part of the initiative, a graduate scientist, Dr. Aoife Thornton, has been appointed as a temporary Zebra Mussel Education Officer at Galway County Council. She may be contacted during office hours at:
091-509063
087-2590292
athornton@galwaycoco.ie