Sligo County Council Decade of Centenaries programme commemorates first Republican County Council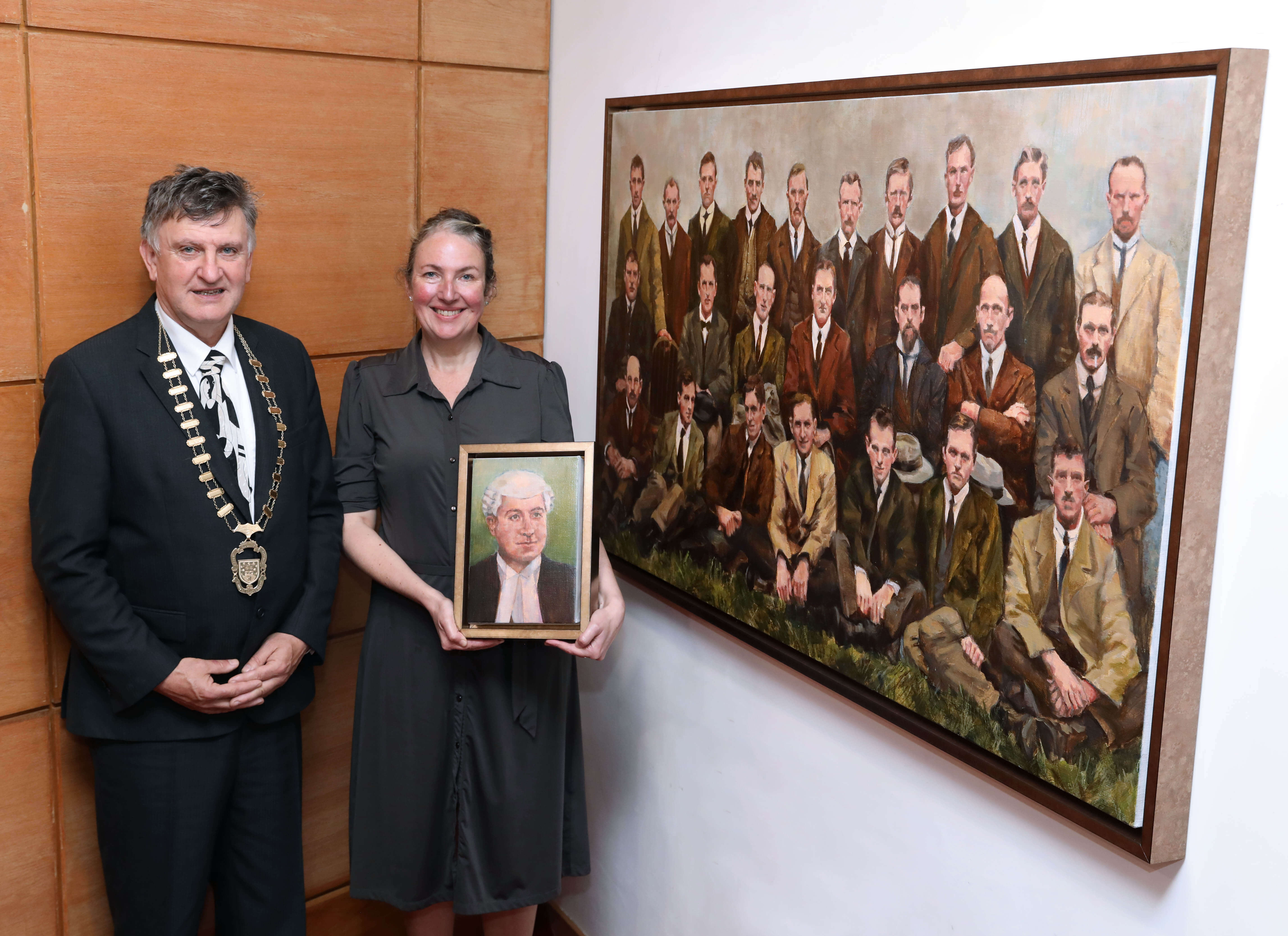 Cathaoirleach Cllr Michael Clarke with artist Emma Stroude who is holding the portrait of Frank Carty
Cathaoirleach Councillor Michael Clarke unveiled a commissioned portrait by artist Emma Stroude of the first Republican County Council.
The portrait depicts the first meeting of the Republican Council, held on 22nd June 1920, where John J. Clancy was elected Chairman. This followed the historic landmark in Sligo politics when the first election under proportional representation took place on May 29th 1920.
The portrait depicts Top row (from left to right) - Seamus Devins, J. J. Mullarkey, Jim Hunt, T. O'Donnell, Bernard Conlon, M. Gray, P.J. Rooney, D. Leonard, Laurence McHugh, James Gilligan. Middle Row - Alderman John Lynch, J. J. Murrican, Alex McCabe, Chairman J. J. Clancy, Sean McMorrow, John Hennigan, D. M. Hanly. Front Row - Dan Kilcullen, Seamus McGowan, Harry Cavanagh, Jack Brennan, Frank O'Beirne, Michael J. Marren, and Micheal Finn. The vacant chair represents Frank Carty, then in Sligo Gaol.
A portrait of Frank Carty, also by Emma Stroude, is hung alongside the Republican Council portrait in the Council Chamber, County Hall.
Frank Carty was an important and influential figure in the I.R.A. in Sligo and the Northwest in 1919-1921, becoming Commandant of the Tubbercurry Battalion IRA and later OC South Sligo Brigade. He escaped from Sligo Gaol in 1920, and from Derry Gaol in 1921. Carty was eventually recaptured and was released in December 1921 as part of the general amnesty laid down by the Anglo-Irish Treaty. After the Civil War, he became a successful politician both locally and nationally, as a member of Sligo County Council and Dáil Éireann.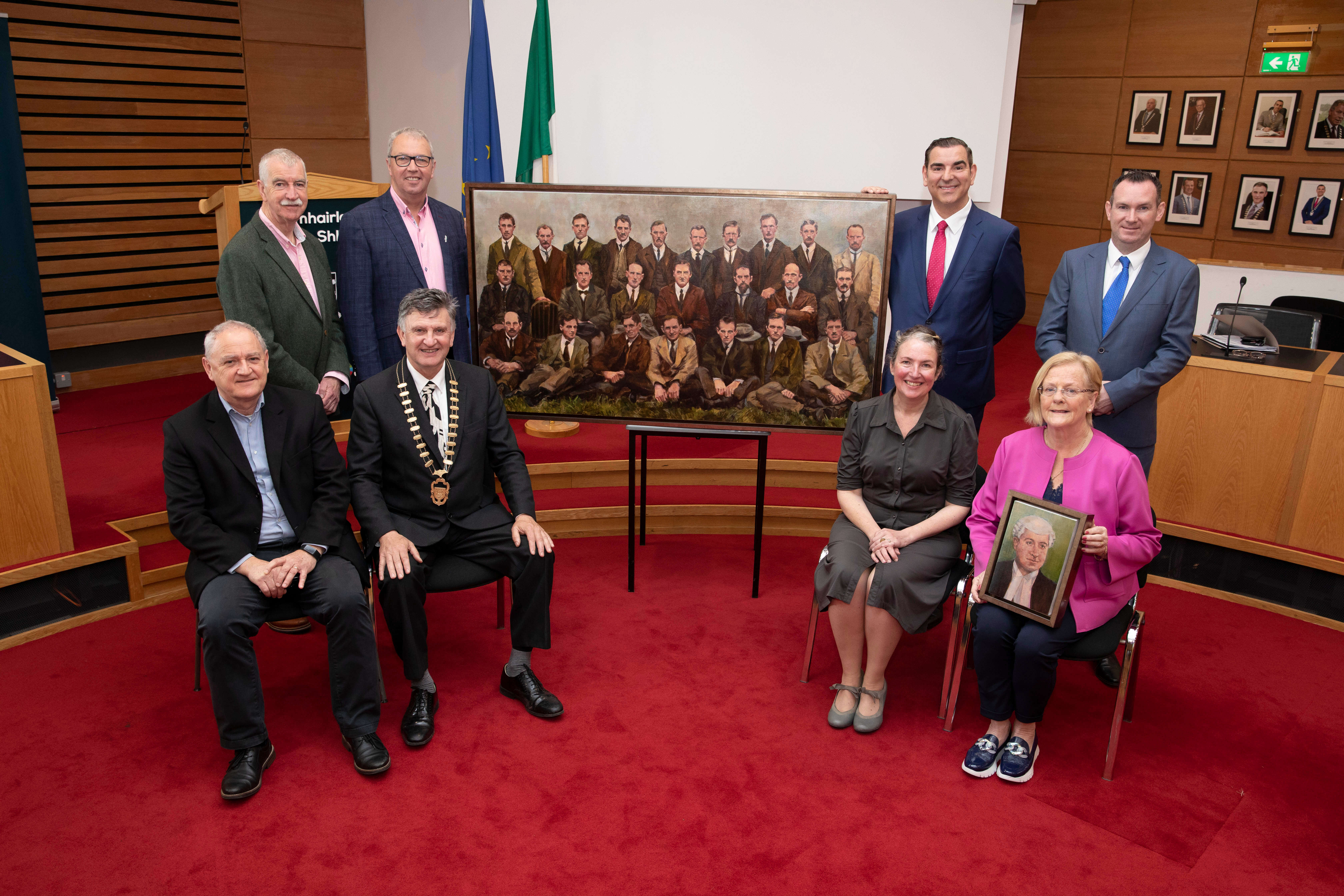 Back Row L-R: Cllr Declan Bree, Cllr Dónal Gilroy, Cllr Tom MacSharry, Cllr Thomas Walsh Front Row L-R: Donal Tinney, County Librarian, Cathaoirleach Cllr Michael Clarke, Emma Stroude, Cllr Rosaleen O'Grady
Originally from England, Emma Stroude completed her studies in London at Chelsea College of Art and Design and The Slade School of Art. She moved to Ireland in 1996 and studied in NCAD before settling in Sligo where she plays an active role in the arts community.
Primarily a painter, her practice is underpinned by a dedication to life-drawing which has a strong influence on her work, especially her portraiture. She was the winner of the Irish Arts Review, Ireland-US Council Portraiture Prize at the Royal Hibernian Academy in 2021.
Emma has an interest in Irish History and has engaged in projects focusing on people of historical significance who played key roles in shaping the Ireland of today. Projects include The First Four Women Elected To The Seanad, 1922, for Seanad Éireann commissioned by the OPW and The Inaugural In Plain Sight Commission, a double portrait of Frances Kyle and Averil Deverell, the first two women called to The Bar in Ireland and the UK in 1921, commissioned by King's Inns and The Bar of Ireland.
The commissioning of the portraits was supported by the Department of Tourism, Culture, Arts, Gaeltacht, Sport, and Media under the Decade of Centenaries 2012-2023 initiative.