Sligo's Best Young Entrepreneurs
Local Enterprise Office announces Sligo's Best Young Entrepreneurs and €50,000 investment fund winners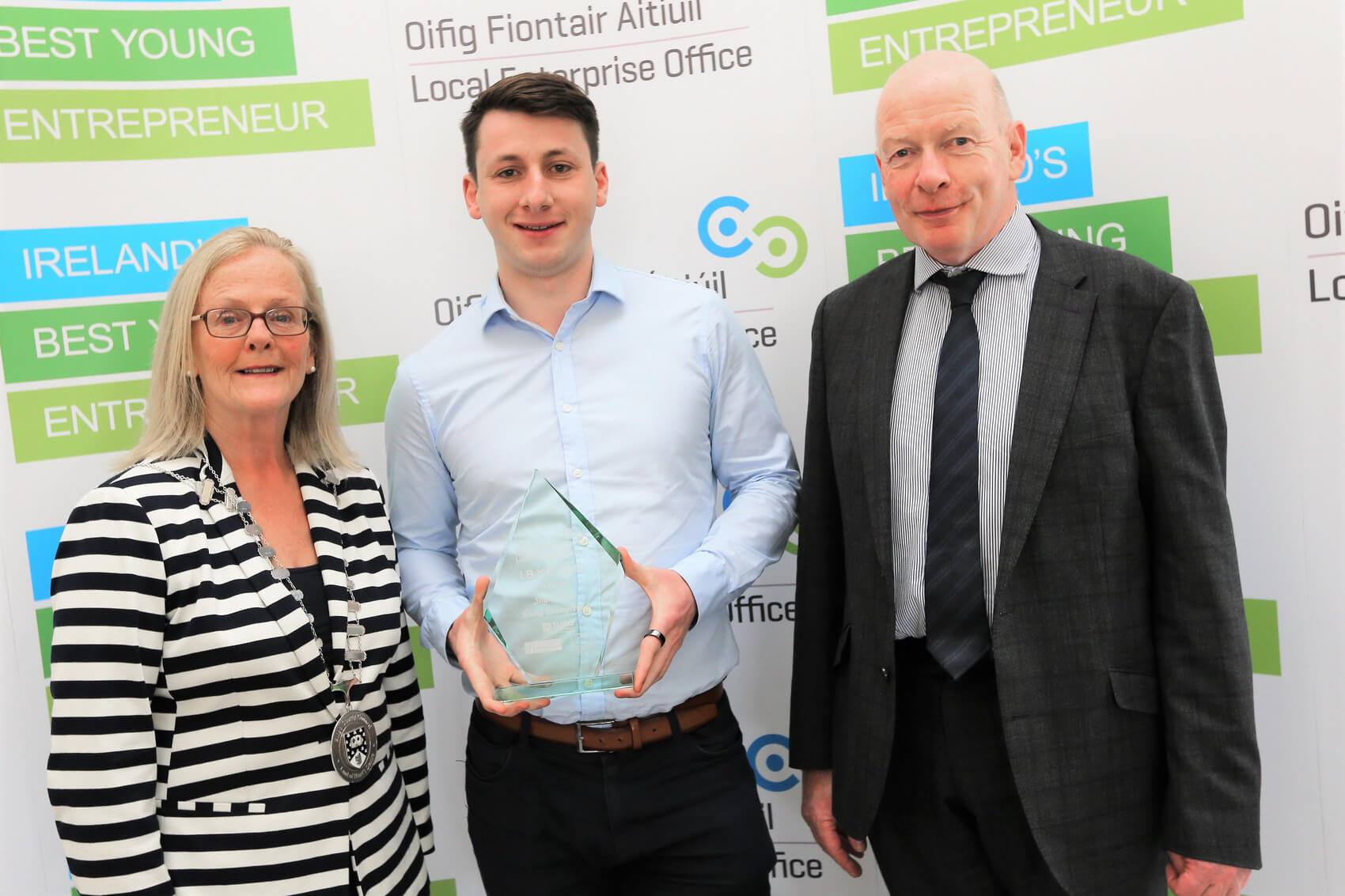 Pictured receiving the 'Sligo's IBYE Entrepreneur of the Year Winner' Award at the County Sligo final of IBYE (Left-Right): Mayor of Sligo Municipal District, Councillor Rosaleen O'Grady, Damien Kilgannon (Winner), and Head of Enterprise, Sligo County Council, John Reilly
Young entrepreneurs from Dromore West, Enniscrone, and Ballisodare win places at Regional Finals
Sligo's "Best Young Entrepreneurs" for 2019 and €50,000 investment fund winners were announced at an awards ceremony hosted by Local Enterprise Office Sligo on Friday last.
As part of a nationwide search launched by Minister Heather Humphreys and Minister Pat Breen to find Ireland's Best Young Entrepreneurs (IBYE) for 2019, the six winners and runners-up were chosen from 15 local finalists and will now share a €50,000 investment fund.
IBYE, now in its fifth year, is a nationwide youth enterprise initiative to help 18-to-35 year olds with an innovative business idea, new start-up or established business. In 2019, 1,644 young entrepreneurs entered IBYE, which is an initiative of the Department of Business, Enterprise and Innovation and supported by Enterprise Ireland and local authorities.
The county final was hosted by Head of Enterprise at Sligo County Council, John Reilly while Mayor of Sligo Municipal District, Councillor Rosaleen O'Grady addressed the audience and presented the participants with their awards.
The 'Best New Idea' category, with a €7,000 investment fund, was won by Damien Kilgannon, aged 27, founder of Sula Health Ltd. in Dromore West, who are developing a consumer medical device to assist with circadian rhythm disorders. The runner-up award and €3,000 investment fund went to Simon Creane, aged 30, of SIRO Social Ltd. in Sligo.
The winner of the 'Best Start-Up Business' category and the €15,000 investment fund was Dominick Barrett aged 28, founder of Atlantic Star Consulting in Enniscrone. Dominick's Company provides an outsourced regulatory report, training and consulting and research provision support services to the Special Purpose Vehicle (SPV) Sector in Ireland. The runner-up in this category, collecting a €5,000 investment fund, was Darren Rooney, aged 31, of Umbrella Product Design Ltd. in Sligo.
Meanwhile, the title of 'Best Established Business', with an investment fund of €15,000, went to Katarzyna Kruszynska aged 33, founder of Beauty Vision. Beauty Vision provides a wide range of accessible and professional training in nail and eyelash beauty treatment for those working in the sector and private individuals wishing to learn more. They have one training centre in Sligo. In 2019 they are planning to open a new training academy in Dublin which will allow them to triple student numbers and also develop an online training academy where students can access refresher courses and introduction courses. The runner-up in this category, scooping a €5,000 investment fund, was Charlene Flanagan aged 29 of Charlene Flanagan Makeup in Enniscrone.
Damien Kilgannon was also awarded the title of 'Best Young Entrepreneur' for Sligo.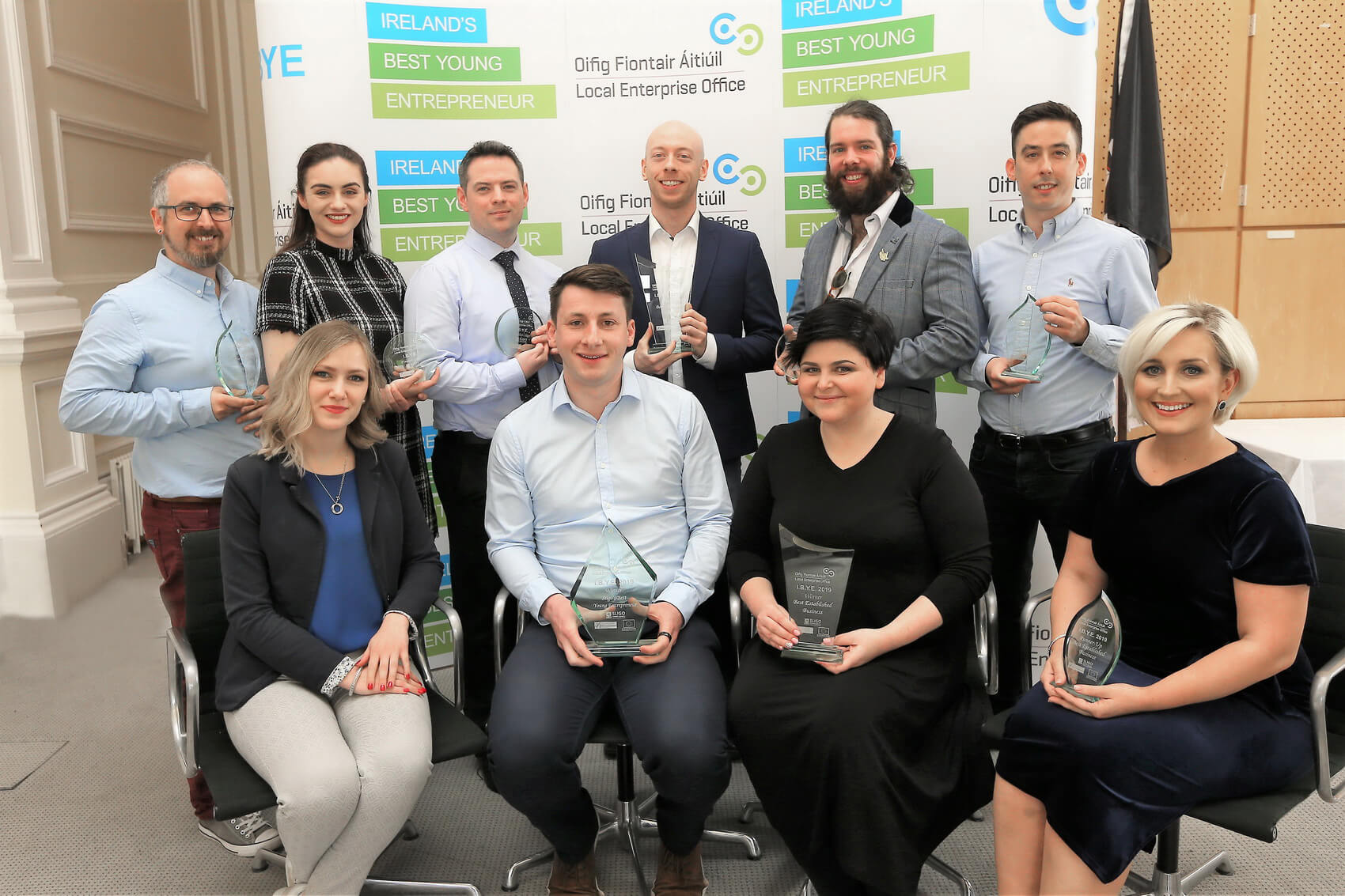 Pictured receiving their Awards for reaching the County Sligo Final of IBYE (Back Row, Left-Right): Darren Rooney, Sarah Murphy, Kevin Finn, Dominick Barrett, Tommy Torrades, Simon Creane (Front Row, Left-Right): Klaudia Gierak (Guest), Damien Kilgannon, Kataryzna Kruszynska, Charlene Flanagan
In the lead-up to the county final, each finalist received targeted business supports through Local Enterprise Office Sligo. They attended an intensive Business Boot Camp, receiving mentoring and support on their business plans, pitch training as well as getting the opportunity to connect with other young entrepreneurs from Sligo.
John Reilly, Head of Enterprise with Sligo County Council said:
"As our winners clearly demonstrate, youth entrepreneurship is thriving here in Sligo. IBYE is about discovering local potential and nurturing that talent through financial supports, mentoring, training and networking opportunities. In 2019, Local Enterprise Office Sligo supported 15 young entrepreneurs through the IBYE competition and over 70 young entrepreneurs in total, since the competition began in 2014. We want to build on that success by supportting Sligo's young entrepreneurs today and into the future."
The county winners from Sligo will now progress to the regional finals, which take place on June 6th. In all, 24 national finalists will be selected at regional finals across the country to compete for the overall title of "Ireland's Best Young Entrepreneur."
At the IBYE national final on Sunday 15th September, which takes place at Google's European Headquarters in Dublin, a €100,000 investment fund will be awarded to winners.
Further details on the competition and supports available to young entrepreneurs are available through www.localenterprise.ie and www.ibye.ie .