President Welcomed to Ballisodare
President Welcomed to Ballisodare for naming of 'Martin Savage Bridge'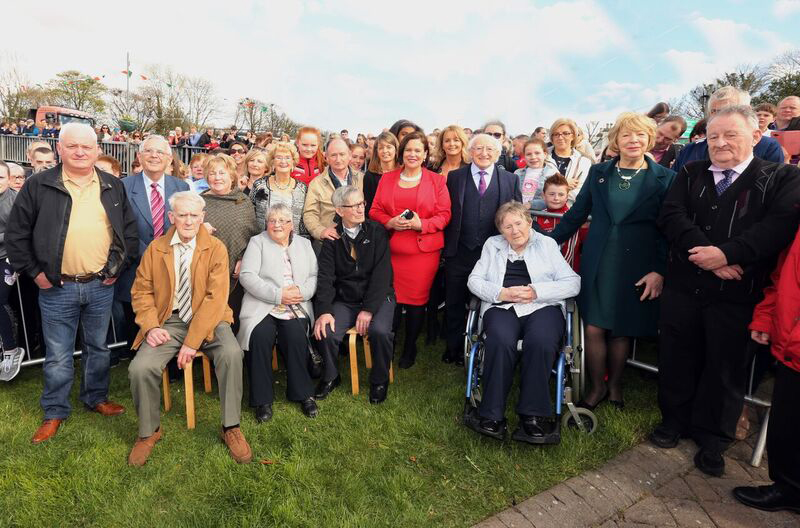 - President of Ireland Michael D Higgins meets the Savage family
President of Ireland Michael D Higgins visited Ballisodare on Friday 20th April for the official naming of 'Martin Savage' Bridge.
President Higgins was accompanied by his wife Sabina and met with the Savage family and local community groups and schools on his arrival in Ballisodare.
In his address, the Cathaoirleach of Sligo County Council Councillor Seamus Kilgannon said it was a special honour for our Council, our community, and most importantly the Savage family, to welcome our President to officiate at the naming of the Martin Savage Bridge.
Symbolic Link
'While the bridge is a major structure on our road network, by virtue of today's ceremony it now represents an historic and symbolic link with our past. Throughout the Centenary celebrations in 1916, we provided a uniquely Sligo context to the national programme of reflection and renewal.
While the public narrative from this era focused on historical, social and political reference points, there is also a private, family perspective, as we join with the Savage family to reflect on the life of Martin Savage, as we approach the centenary of his death.

Dignity and Pride
As part of that Centenary programme, we recalled what one historian termed 'the ordinary lives of extraordinary men'. Today this community reflects with dignity and pride in the presence of our President and the Savage family. The broad canvass of history is made up of countless acts of individual heroism and sacrifice.
To be in the presence of people who have a personal connection to the formative event in our history s a rare and special privilege, one that lies at the heart of our ceremony here today.

Identity
In a broader context, the Centenary programme was a gift to the current generation, a gift which enhances and informs our sense of identity, and provides an invaluable insight into our past. As well as informing us, this programme challenged us to question old certainties, consider new perspectives and broaden our historical horizons. Martin Savage was a young man when he died on 19th December 1919. Today's younger generation are driven by the gift of curiosity, to explore, to question, and new research continues to shine a light and offer new perspectives on the formative events of our democratic state.

Volunteer Tradition
If 2016 was our year of commemoration, 2017 was our year of the Volunteer, when Sligo was honoured with the accolade of 'European Capital of Volunteering.' There is a long and rich tradition of volunteerism in Ireland, and communities all over the country are energised and enhanced by the dedicated people who give so generously of their time for the common good, without any expectation of acknowledgement or reward. I mention this by way of suggesting that if people wanted to study a model or template of outstanding community endeavour, I would ask them to look no further than the Ballisodare community, whose spirit and professionalism have been the backdrop to today's ceremony.'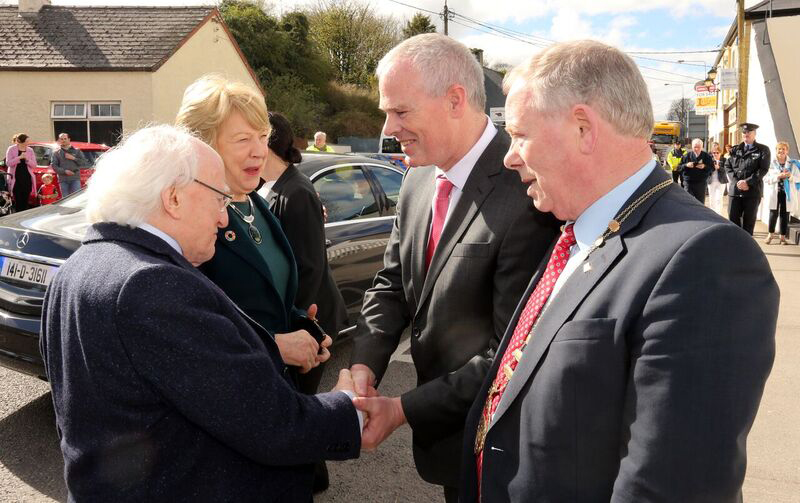 Cathaoirleach Councillor Seamus Kilgannon and Chief Executive of Sligo County Council Ciarán Hayes welcome President and Mrs Higgins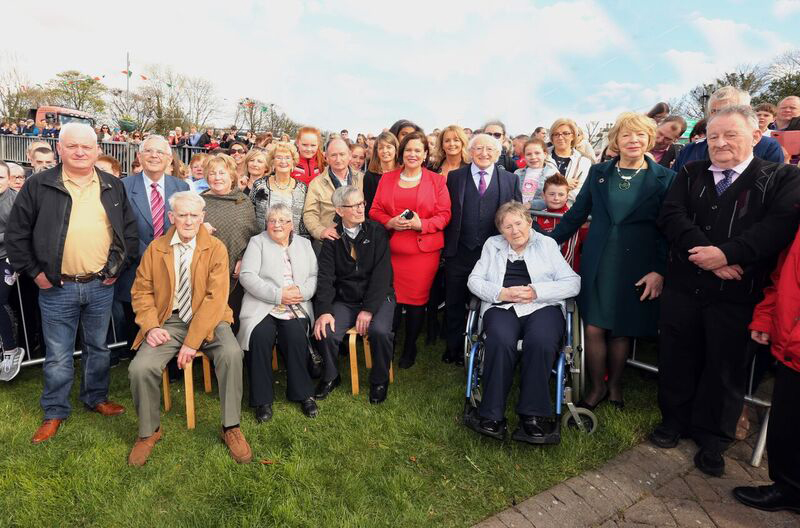 President of Ireland Michael D Higgins meeting with the Savage family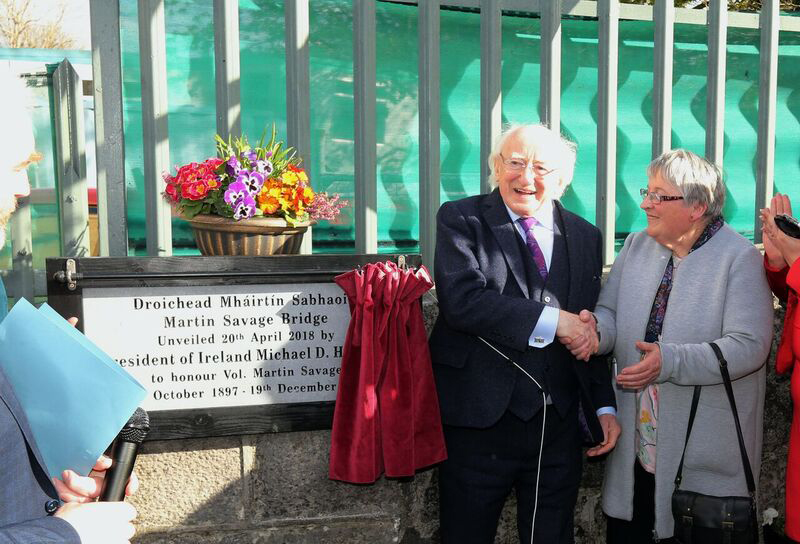 President Higgins unveils the plaque