New Development Plan for Sligo
New Development Plan for County Sligo 2017–2023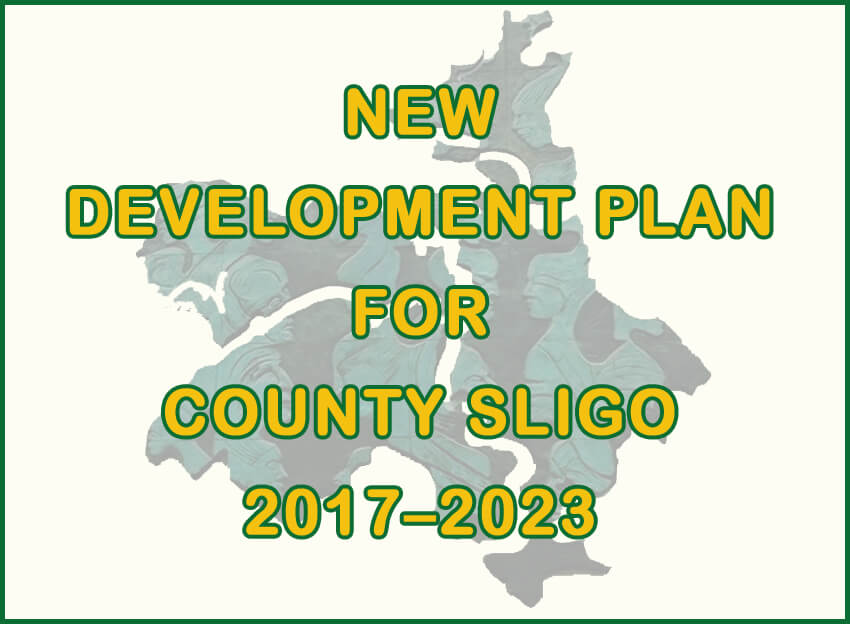 On 31st July 2017, the members of Sligo County Council made a new Development Plan for the County.
The adoption of the Plan at the Special Council meeting marked the successful completion of a two-year long process, which involved three stages of public consultation totalling over five months, during which the Planning Section received 232 submissions from the public.
The Development Plan, initially put on public display as a Draft in 2016, was adopted subject to more than 150 amendments.
The Cathaoirleach of Sligo County Council Councillor Seamus Kilgannon said
'The County Development Plan is one of the most significant policy documents published by a Local Authority, and its adoption by the elected members is a very important function. The new Plan will guide the physical development of the County over the next six years, while providing a long-term framework for sustainable social and economic growth.'
Compared to the outgoing Plan, the new document features the following:
a Core Strategy intrinsically linked to Sligo's Local Economic and Community Plan (LECP);
higher population growth targets for Sligo City and County;
a streamlined and less restrictive rural housing policy;
an extensive section on outdoor recreation, including greenways and bicycle trails;
an enhanced framework for the protection of the County's landscape and vernacular built heritage;
improved guidance on the design of urban and rural housing;
32 village plans ("mini-plans") included in Volume 2, focused on the development requirements of local communities.
Sligo County Development Plan 2017-2023 will become operational on 28 August 2017, four weeks after its adoption.