N16 Public Consultation
N16 SLIGO TO COUNTY BOUNDARY PUBLIC CONSULTATION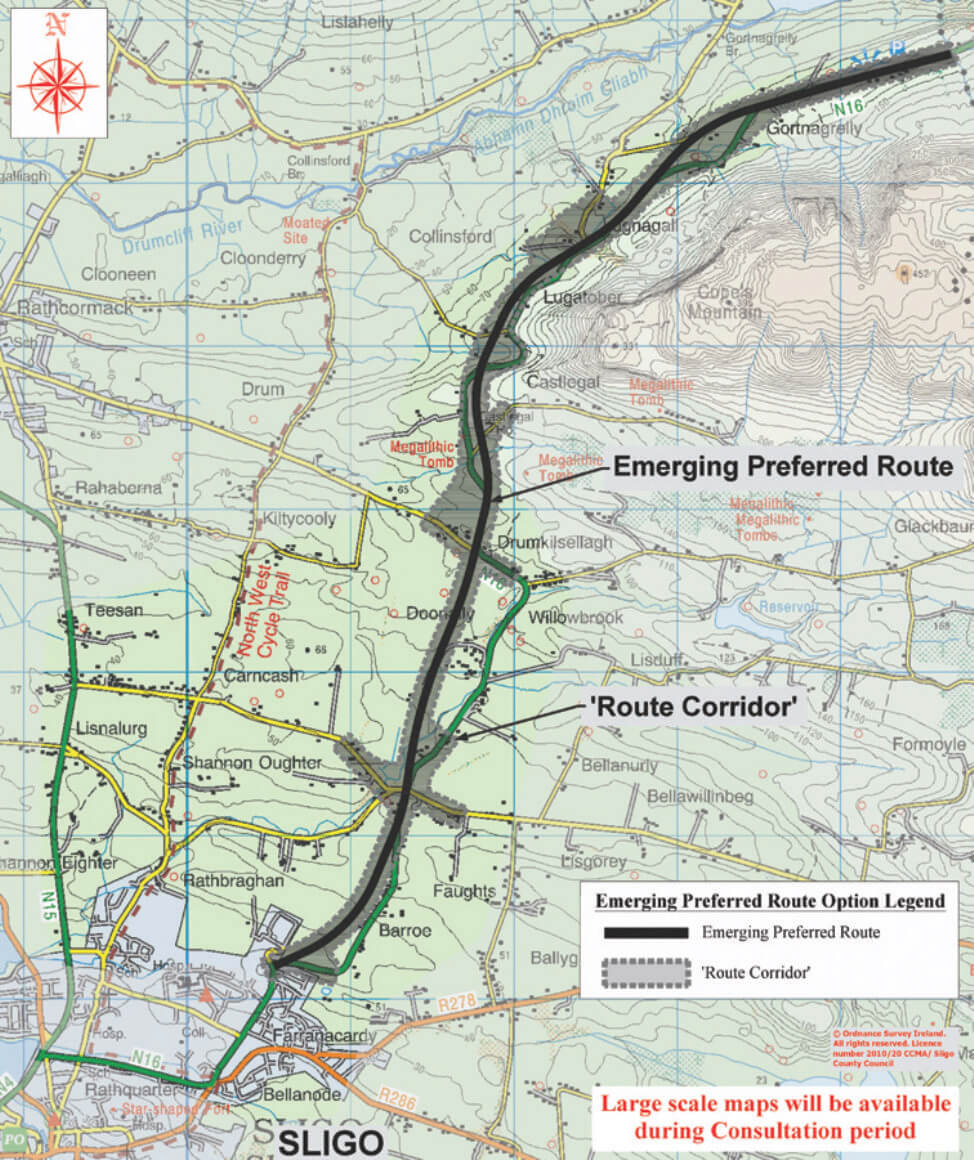 ROUTE SELECTION' EMERGING PREFERRED ROUTE'
Following extensive assessment, an 'Emerging Preferred Route' ('EPR') (outlined broadly on the accompanying map) has now been established for the N16 national primary route between Sligo and the County Boundary with Leitrim. This now permits the planning and design of minor improvement schemes (3 to 4 no.) to commence.
It should be noted, that the design is a Work in Progress. As more detailed information becomes available, the design will evolve and may be refined, or changed at certain locations. This may include; adjustments to the alignment, junction design and the provision of additional ancillary infrastructure such as drainage and access arrangements. The National Roads Project Office will endeavour to keep the public informed of these changes. It should also be noted that the 'Route Corridor' depicted to encompass the 'Emerging Preferred Route' is indicative only and does not represent project extents; this corridor will be used by the Planning Authority for the referral of planning applications to the TII and the National Roads Project Office. However, it is envisaged, insofar as is practicable, that any changes to the 'Emerging Preferred Route' during the design phase, will not extend outside of this 'Route Corridor'.
A Public Consultation (No. 04) shall commence in the Clayton Hotel, Sligo, on the 6th (3pm - 8pm) and 7th (1pm-8pm) June, 2017.
Detailed large scale drawings of the 'Emerging Preferred Route' and 'Route Corridor', will be available for inspection during the Consultation. The aforementioned information may also be inspected during office hours from the 8th June to the 21st July, 2017 at the offices of:
Sligo County Council, County Hall, Riverside, Sligo; and
TII National Road's Project Office, Sligo County Council, Business Centre, Market Yar, Sligo.
Submissions already made have been retained on file; however, further submissions from the public are welcome, this may assist in making further design refinements during the design phase. The deadline for receipt of such submissions is Friday the 21st of July at 4pm. Submissions should be returned to:
Fergus Meehan, Project Engineer (N16), TII National Road's Project Office, Sligo County Council, Business Centre, Market Yard, Sligo - or alternatively by email to n16scb@sligococo.le. Please print 'No postage stamp required' on envelope in place of stamp.
The Route Selection Report will be published at www.sligococo.ie/N16 over the coming weeks; details in relation to requests for hard copies will also be outlined at the aforementioned website address.
Should you have any queries, please do not hesitate to contact the Project Engineer at 071 91 11968, or 071 91 11975.
N16 Emerging Preferred Route
- 2,801 kbs