Major European Award for Northern & Western Region
Major European Award for Northern & Western Region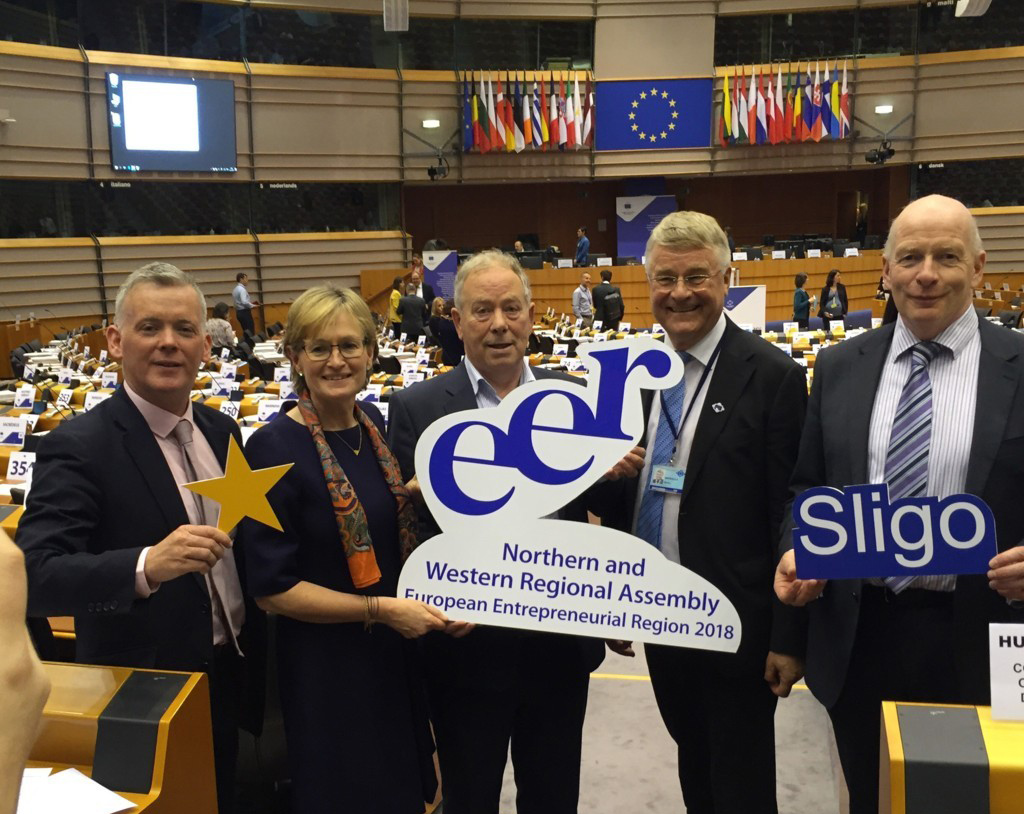 Accepting the Award for 'European Entrepreneurial Region 2018. In Brussels were: David Minton, Director of Northern and Western Regional Assembly; Mairead McGuinness MEP; Cathaoirleach of Sligo County Council, Councillor Seamus Kilgannon; President of the European Committee of Regions, Markku Markkula; John Reilly, Head of Enterprise, Sligo County Council
The Northern and Western Regional Assembly has been declared 'European Entrepreneurial Region 2018.
Announcing the accolade at a ceremony in Brussels,
"This title recognises the enormous strides the region has taken to foster entrepreneurship and reverse decades of decline."
The Cathaoirleach of Sligo County Council Councillor Seamus Kilgannon welcomed the announcement,
"The award is a huge boost for a region that has developed policies that transformed the area from adversity to advantage, making it one of the most resilient and ambitious places in Europe. As Cathaoirleach / Elected Chairperson of the Northern and Western Regional Assembly (NWRA) today I am delighted to accept the award on behalf of the NWRA region which comprises eight counties. They are Donegal, Sligo, Mayo, Galway, Roscommon, Leitrim, Monaghan and Cavan. This is an amazing honour and an opportunity for a part of Ireland that has been traditionally marginalised to emerge stronger and more attractive as a place to live and work for our young people. "
Brexit
In the context of Brexit, this is particularly timely for our region as our communities share stories, resources, relationships and business with our colleagues in Northern Ireland. We share these because there is no border. The vision our region is limitless; it is imperative that we are not bound by borders – soft or hard!'
Job Creation and Innovation
The European Entrepreneurial Region 2018 designation will be marked with a series of events and initiatives all through next year to support job creation and innovation across the Northern and Western region. It is only the second time in the seven-year history of the programme that an Irish region has been selected; Kerry was chosen in 2011. In 2015, Northern Ireland was named European Entrepreneurial region. Other previous winners have included cities such as Glasgow, Barcelona and Lisbon. All have used the year to establish successful programmes and schemes to encourage innovation and job creation. We aim to do the same.
Spirit of Entrepreneurship
The Chief Executive of Sligo County Council Ciarán Hayes said the award is a fitting acknowledgment of the excellent work being delivered by the Local Enterprise Office, the Northern and Western Regional Assembly, and the agencies working with them.
"This is showing tangible results in a number of important areas such as the opening earlier this year of Ireland West International Trade Centre in Providence, Rhode Island, the development of a strategic alliance between Stewart International Airport and Ireland West Airport Knock, which is being formally signed in New York next week. This initiative will see the development of services between our airports and has major potential in terms of attracting visitors to this region."
Network
"The spirit of entrepreneurship was driven by the network of collaborative Local Enterprise Offices supporting over 45,000 businesses. The concept of 'entrepreneurship as a career' has also come from smart programmes such as Ireland's Best Young Entrepreneur, the LEAN programme for businesses that is about to be rolled out, the range of management development, training, mentoring and other activities available through the LEO, the Enterprise Europe Network Programme and also Enterprise Ireland's New Frontiers programme.'"
Minster for Community and Rural Affairs Michael Ring TD conveyed his congratulations and said:
"For me this award is about recognising the risk taker – from entrepreneurs, to small business owners and indigenous enterprises growing in scale."
Opportunity
The Cathaoirleach commended everyone associated with the award. 'The judging panel, staff of the Northern and Western Regional Assembly, but most importantly the business people who made this possible. 2018 will be an incredible opportunity to celebrate entrepreneurship as a career - not just for some people but an opportunity for everyone. Ireland has produced some of the world's leading entrepreneurs and business people. They are in every sector and industry. This award is another opportunity to tell their story.'