Cathaoirleach's Awards 2017
Local Volunteers Honoured at Award Ceremony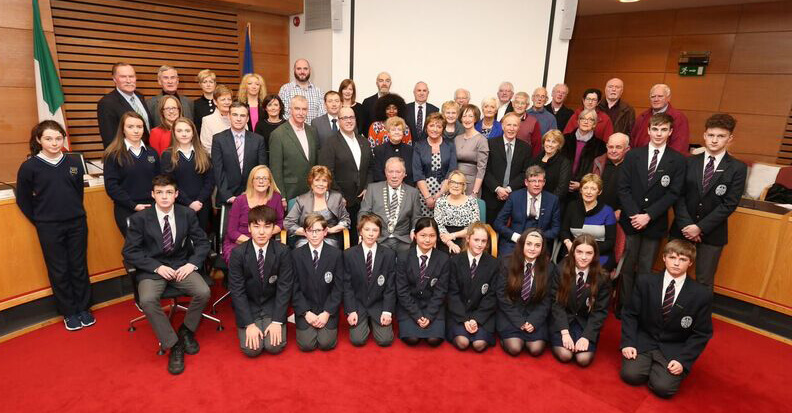 Cathaoirleach's Awards winners with members of the Awards Committee
Sligo County Council hosted its annual Cathaoirleach's Awards ceremony in County Hall on Wednesday evening.
The awards were introduced to acknowledge the contribution of the many unsung heroes who carry out invaluable voluntary work in our communities.
The Awards were presented in nine categories:
| Category | Winner | Presented by |
| --- | --- | --- |
| Arts & Culture | Mabel Chah | Councillor Declan Bree |
| Community Individual | David Tuffy | Councillor Dara Mulvey |
| Community Group | Sligo Stoma Support Group | Councillor Chris MacManus |
| Year of Volunteering | Dymphna Gorman | Cathaoirleach Councillor Seamus Kilgannon |
| Sports | Michael Carney | Councillor Hubert Keaney |
| Young Enterprise | Magmojis" Sligo Grammar School | Councillor Rosaleen O'Grady |
| Environment/Heritage | Calry Local History Society | Councillor Gino O'Boyle |
| Schools | TY Coláiste Muire Ballymote | Councillor Dara Mulvey |
| Spirit of Sligo | Helen Rochford-Brennan | Cathaoirleach Councillor Seamus Kilgannon |
Dedicated Volunteers
In this address, the Cathaoirleach said 'Too seldom as a community do we take the time to formally show our appreciation for the enormous work of our dedicated community volunteers, those people who give so generously of their time, energy and expertise for the common good. In this year when Sligo celebrated its status as 'European Capital of Volunteering', the role of our community volunteers came into even greater focus, and over the last 12 months we have showcased and celebrated the magnificent work carried out by our volunteers all over our county. Indeed our committee decided to mark this special year by presenting a special award in recognition of our accolade of 'European Volunteering Capital'. This Awards ceremony is Sligo County Council's opportunity to show our gratitude for the many community groups, associations and individuals across many spheres of activity.
Unsung Heroes
The most effective work we do as an Authority is in conjunction with the community we serve, and our engagement with voluntary groups and associations has been the backdrop to many successful projects. It is an honour to be nominated for an award in any field of endeavour, and our guests here this evening have been put forward by people who hold them in great esteem. Our committee was genuinely impressed by the scale and quality of voluntary work being carried our around our county by individual and groups. These are the true 'unsung heroes' in our society who discreetly go about their business, they invariably shun the limelight, but we publicly applaud and commend them today.
Resource
The Cathaoirleach told the Award winners 'You are a great resource to your own communities, but also an inspirational presence for the wider public, who recognise and applaud the gift your work has bestowed on our society. The Cathaoirleach also thanked his colleagues on the Award Committee for their work in studying the nominations and selecting winners; 'I think when you see the calibre of the people we are honouring this evening, you will agree the committee has done its job very well.'
View photos of the Cathaoirleach's Awards 2017