Councillor Seamus Kilgannon elected Cathaoirleach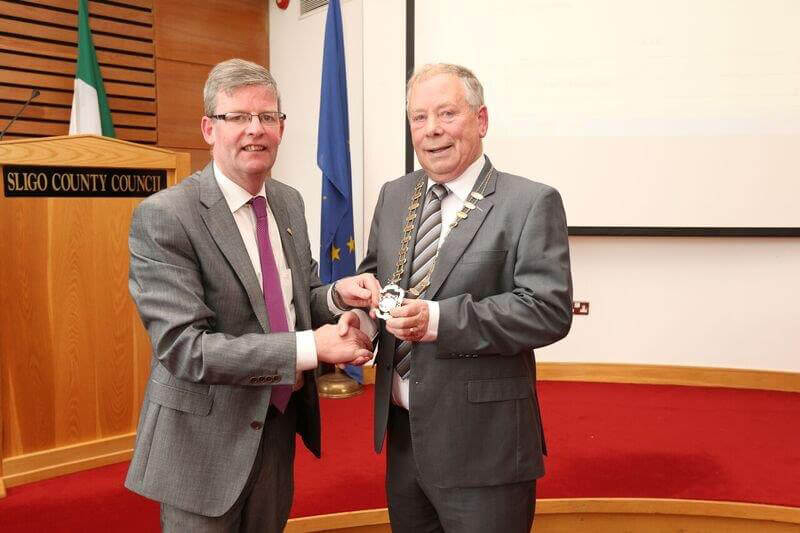 Councillor Seamus Kilgannon was unanimously elected Cathaoirleach of Sligo County Council at its Annual General meeting on 19th June. Councillor Keith Henry was unanimously elected Leas Cathaoirleach.
In his address the Cathaoirleach said 'It is an honour and privilege for me to be elected Chairperson of Sligo County Council. I look forward to working with all members in the Council Chamber in our service of the people of County Sligo. This Council was elected in 2014, and any appraisal of our performance has to acknowledge they have been very challenging years for this Authority, but I believe we can reflect with some pride on our achievements in that time.
Flagship Projects
The financial restrictions imposed on us has resulted in huge sacrifices for this Authority, both Councillors and staff, but the very evident turn- around in recent times is due to Councillors and staff working together towards a common goal. There are a few flagship projects I would like to see progressed over the course of my term – I welcome in particular the recent progress made in relation to the N4 Collooney to Castlebaldwin, the delivery of this scheme will have major implications, not just for County Sligo, but for the Northwest region. From the time I was elected a Councillor, I have regularly expressed the hope that we should see some advancement on the N16 and N17 routes. It is heartening to see that progress is being made on the site selection of the N16, and we should work with our Oireachtas representatives to ensure the N17 is placed on the agenda as soon as possible. We should continue to advocate and lobby for these and other major projects such as the Eastern Bridge and the Western Distributor Road.
Showcase Sligo
I cannot over-emphasise the importance of our transport infrastructure to the future success of this region. Whether it is welcoming tourists, attracting new investment and sustainable jobs, a modern road network is a key requirement, and I welcome the progress being made across a range of projects. We should showcase and promote our county at every opportunity and in every available forum, to develop facilities such as the Greenway between Collooney and Bellaghy, the development being delivered in Enniscrone by David McGowan which has attracted global media interest, to capitalise on the success of the Wild Atlantic Way - We have a duty to work together put our best foot forward to 'make the case' for Sligo. This is not the exclusive preserve of any one authority or agency, it is one we should all readily subscribe to and support.
Active Partnership
Sligo's status as the centre of economic growth in the northwest rests on our continued ability to work in active partnership with other key agencies such as the IDA, Sligo Chamber, the Sligo Institute of Technology and our social partners. Each of these bodies share our ambition for this county, and each has made an enormous contribution in their respective fields. My own background is in the area of education and training , and I take great pride in the achievements of the educational sector in Sligo, especially the Sligo Institute of Technology and St Angela's College.
The I.T. is a progressive, dynamic centre of learning, they provide our young people with a first class education and qualifications that are regarded the world over. Our job as public representatives is to do all within our power to help create the conditions where young people find employment.
Regional Development
The launch earlier this year of the National Planning Framework is a significant development. Consultation and meaningful engagement were key elements in the preparation of this framework, and the ambitious vision outlined in the Plan provides the context for the future development of our region, our county and our community. This initiative enjoys the committed support of key national and local agencies, and I must commend David Minton and the Members of the Northern and Western Regional Assembly for the invaluable work they carry out, and they will have a pivotal role to play in the roll-out of this Framework.
Credit Union
Councillors will be aware of my involvement with the Credit Union movement, and I might make a couple of brief points on current developments; In response to a request from the Government in 2014, the ILCU developed a detailed plan which set out how credit unions could invest surplus funds in social housing. It would be envisaged that the Irish Council for Social Housing (ICSH) could establish a fund which credit unions (and others) could invest in, and which the Approved Housing Bodies could then draw from to provide social housing.
The ILCU would hope to provide €500 million initially to such a fund, with the possibility of this rising to €1 billion in time. In relation to mortgages, there is significant demand in the Irish market, and among credit union members the length and breadth of the country, for a credit union mortgage product. The current mortgage market is sorely lacking in competition. Credit unions can become significant players in providing diversification in this market. Developing a mortgage solution has been a priority for credit unions and the Irish League of Credit Unions for some time.
Tourism
A particular challenge we face is to ensure we get our share of the tourist market; There is no doubt there is a very marked regional disparity with hotel capacity unevenly distributed across the country. The Tourism industry is worth about €6 billion to our economy, we welcome in the region of 8 million overseas visitors to this country – the Northwest will have to make a concerted effort to ensure we attract our share of this market. Locally, we are fortunate in the high standard of our accommodation and hospitality sector, and this provides an excellent platform to plan for the future with confidence.
Leadership
The delivery of efficient and effective services is the key function of local government and the level and scope of the various services are determined by the resources at our disposal. We have laboured under the pressure of delivering the optimum level of service possible with diminishing staff and financial resources, but I believe we have turned a corner. Challenges remain, but this Council has shown leadership, resolve and purpose. If we continue to work together to portray a positive and vibrant image for Sligo, there is no limit to what we can achieve.