Councillor Hubert Keaney Elected Mayor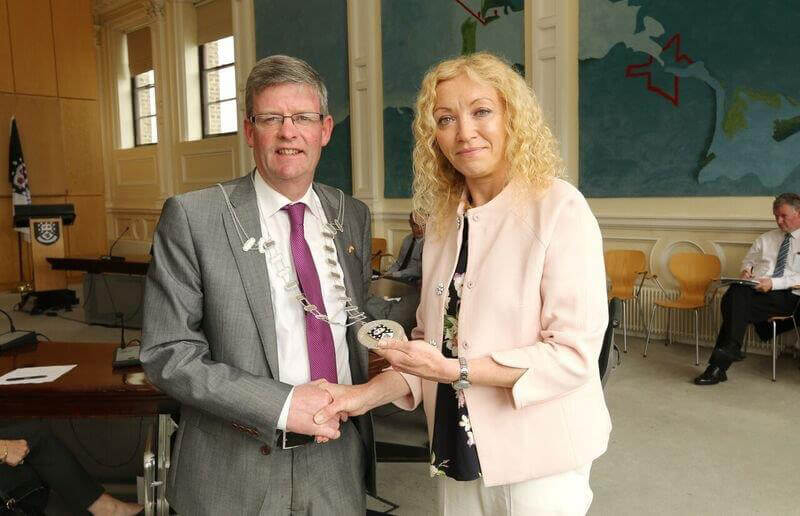 Councillor Hubert Keaney was elected Mayor of Sligo Municipal District at its Annual General Meeting in Sligo City Hall on 19th June. Councillor Chris MacManus was elected Deputy Mayor.
In his address, the Mayor said 'It is an honour and privilege for me to be elected Mayor of Sligo Municipal District, I am in a unique situation, that given the timing of today's annual General meetings, that at this very moment I hold the position of Cathaoirleach of Sligo County Council and Mayor of Sligo Municipal Council. The burden of this dual responsibility will be lifted in about an hour, when the Council will elect its Cathaoirleach.
Promoting Sligo
While it could be argued that the transformation of Local Government undermined the status of the local Council, and therefore diminished somewhat the office of Mayor, I think the people of Sligo would beg to differ with that appraisal. During my time in public life, I have perceived nothing but wholehearted respect and regard for the office of Mayor, and I will do all within my power to uphold the tradition and custom of this office. Sligo is the centre of economic growth in the northwest, we have been working very closely with other key local agencies to promote and showcase Sligo to a national and international audience.
Jobs and Investment
We operate in a hugely competitive environment, whether we are trying to attract tourists, sustainable jobs or new investment, but I think we are well positioned to undertake this task with some confidence. Against this background I look forward to working with all members in the Council Chamber to conduct the business of this Authority, and knowing the calibre of the elected members and staff, I think we will overcome the challenges that will invariably lie ahead. The social and economic landscape of Sligo has changed in recent years, we have been enriched by people from various cultures and backgrounds, and the way we assimilate people coming to our town is a test of our maturity as a society. Our ambition is now to move forward in a spirit of cooperation and partnership, which has been the catalyst for progress in many aspects of our society – cooperation between the commercial sector, marketing sector and tourism agencies.